Eventübersicht

German-American Friendship ...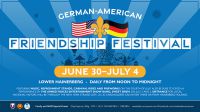 German-American Friendship Fest
Donnerstag, 30. Juni 2022 - 12:00 Uhr
Hainerberg Housing

65205 Wiesbaden

Beschreibung
German-American Friendship Fest

U.S. Army Garrison Wiesbaden hosts the 2022 German-American Friendship Fest from June 30 to July 4, 2022. The event, open to everyone, will feature music, refreshment stands, carnival rides and fireworks on the Fourth of July.

It will be located on Lower Hainerberg -- above the AAFES Service Station and around the Taunus Theater -- June 30 to July 4. The festgrounds will be open daily from noon to midnight.
Entrance for local national visitors will be through the New York Strasse gate. U.S. ID cardholders can enter there or from Hainerberg Housing.

Be sure to catch a performance by the Armed Forces Entertainment show band, Sweet Siren, on July 2 and 3 at the fest.
Cost: No admission -- bring Euros for refreshments and rides.